By George Karouzakis
Juliette Gréco, the legendary figure of the French song, a muse of the existentialists and the intellectuals of the Left Bank in the sixties, a genuinely free spirit in postwar Paris, sang, in 2005, in Athens, Greece. She performed in Pallas Theatre, and that was the first concert of a big tour, which had started in Greece and continued in several countries. It was the way she had chosen, in her eighty-eight years, to say a big thanks to her audience. Jean-Paul Sartre, Albert Camus, Jean Cocteau, Miles Davis, Michel Piccoli, Serge Gainsbourg were among those people who loved her voice and her personality, passionately. A few hours before climbing the stairs of Pallas, we had chatted in the suite of her Athenian hotel.
– Is this a farewell concert?
I don't do this concert to say goodbye to anyone but to say a big thank you. There's a difference.
– What pleasure do you derive from a concert?
It's always a sincere, moving and subversive joy, with rare feelings, each time different. I compare this experience with the moments that someone has when he makes love. They are never the same and depend on the partner. I approach the audience like a person. I sing for many people, but I need only one. We are two. I feel that my relationship with the public is like a relationship between two people.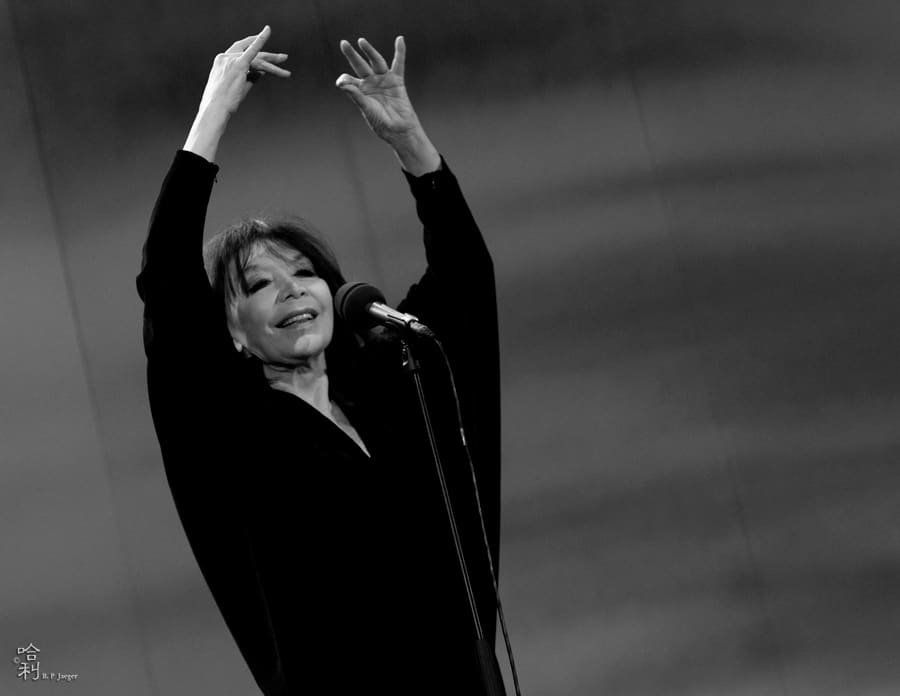 – What caused you to start singing?
I started to sing due to Jean-Paul Sartre. After the war, I began acting in the theatre. One of those years, I participated in the play of Roger Vitrac, 'Children in Power.' I remember those days. I had dinner with Sartre in Montmartre, and as we were descending on foot to Saint-Germain-des-Prés, he told me: "Gréco, why don't you start singing?" He knew my voice. So I started.
… a deficit of culture
– Your life, during the war, was difficult for an additional reason. Your family belonged to those who resisted the invaders.
Yes, the young people today know almost nothing about what happened then. A few years ago, in France, they were asking people on the street to tell them who was Charles de Gaulle. "I don't know", they replied curtly. That's ridiculous and unacceptable. There's a serious problem, in my opinion, when you ignore what has happened in your country. We also have this rise of the extreme right in France, which I consider is frightening.
– How do you explain this preference of some French people?
I think it's a frivolous, but dangerous attitude. It reminds me of the logic;'We are unhappy with this policy, let's try another one.' Without, of course, any worry that those who represent this other system belong to the extreme right. I don't think that behind this choice there's a strong political opinion. However, this attitude is dangerous and can cause severe problems in the country. I believe there's a deficit of culture, education and a great ignorance of history.
Many people ignore the deaths at Auschwitz, Ravensbrück and Dachau. There's a type of denial of what happened. Moreover, this is strange. People refuse to accept the horror. However, the horror is here. I was in the action of the Second World War. My mother was a partisan, and my sister was in the Resistance. While I was a little girl, I drove the Jews, who were in the house, to the train station with a horse or a car and I conveyed their messages. I had a physical and spiritual participation in the events of World War II.
– Later in your life, you had the chance to live freely and find yourself in the centre of a group that changed the way we think.
Apart from the unthinkable dropping of the atomic bomb in Japan, my generation had the experience… of another bomb dropping. We experienced the bomb of freedom. I refer to this powerful post-war sense of liberty that initially exploded in the streets of Montmartre, to expand to Montparnasse and, after the war, to Saint-Germain-des-Prés. Everybody came there: painters, musicians, artists of all kinds. Everybody was in this small village in the heart of Paris.
– Why was this meeting of intellectuals and artists in Saint-Germain-des-Prés so important?
It was a unique meeting for many reasons. One of them was related to the spirit of the new generation. There, we began to feel, for the first time, that we were important. Before the war, in France, adults and children were not talking at the dining table. There was a strict dividing line between parents and children. Suddenly, the teachers started talking and listening to us. It created a meeting point, a contact between adults and adolescents, between the teachers and the students.
So, Jean-Paul Sartre was the one who spoke to me first. The voice of young people began to have a different value. Not necessarily my own, because I wasn't speaking much. Therefore, we became more aware of our existence; we considered ourselves as human beings with hypostasis and personality. We could exchange views with Picasso, Simone de Beauvoir, Albert Camus, Raymond Queneau. I feel fortunate that I was among them, and I remember them all with great affection. I don't know exactly how I found myself in the company … I don't have a clear answer yet.
– Why do you think that they accepted your company?
I was chosen, probably because I was different enough to many women in my age group. I had many contrasts in my behaviour and my appearance. I was, simultaneously, white, black, dark… I had long jet-black hair, which at that time was much in vogue. I was utterly scandalous. I had this intense makeup and these individual bangs in my hair. I was different, and I lived differently. I wasn't speaking much, but I lived so freely. I did what I wanted, exactly. I was wearing shorts at the time no women dared. Moreover, because I had not enough money, I started to dress in men's clothes, choosing the old clothes of the boy who lived in the home of the family I stayed with. It was weird. I don't know what desire or strength pushed me to behave like this.
– What was the role of love in your life?
Love had a significant role in my entire life. I experienced many love affairs with different tensions. In some cases, I left before the disaster. However, I am satisfied with my life. I met lovely people. I have had three husbands. I sang, and I am still singing in my life.