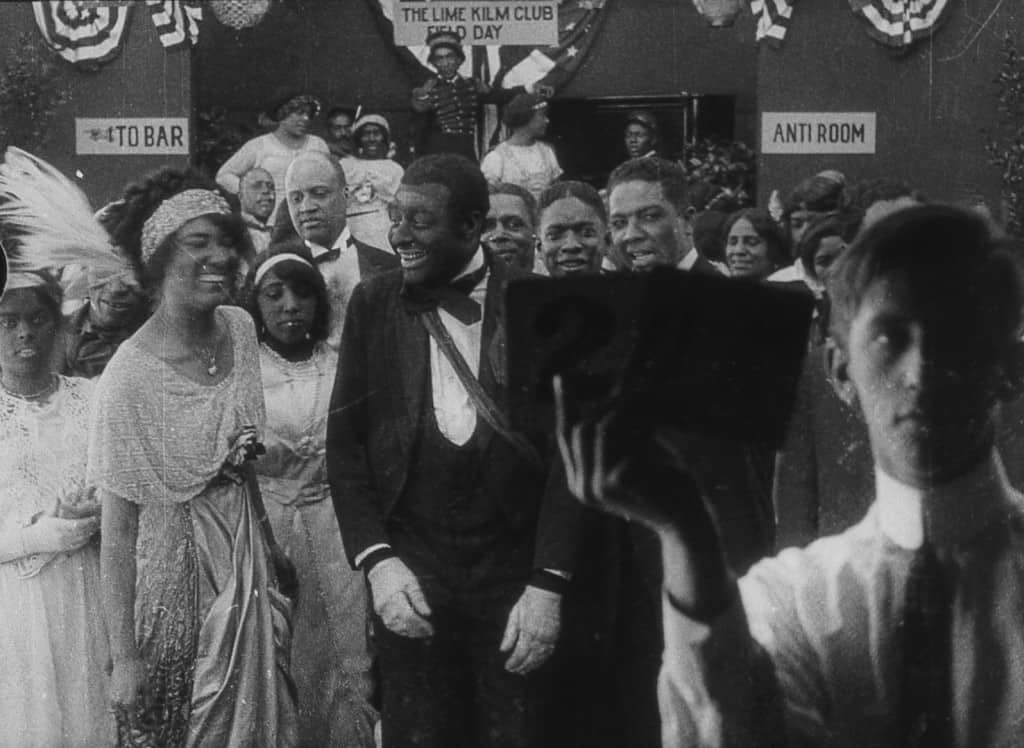 The Museum of Modern Art announces the discovery of previously unidentified, 101-year-old film footage, the earliest known surviving feature film with a cast of black actors. The unedited daily rushes—multiple "takes" shot each day during production—were found among a trove of 900 negatives from the pioneering Biograph Studio that were acquired by MoMA's founding Film curator, Iris Barry, in 1939, just prior to their scheduled destruction following the closure of Biograph's Bronx facilities. Though a few other movies from that period featuring black casts, such as William Foster's The Pullman Porter (1913) and Hunter C. Haynes's Uncle Remus' First Visit to New York (1914) are known to have been filmed, all are considered lost. The discovery of the 1913 rushes launched a multiyear research project to identify the production, its actors, and its crew, led by Ron Magliozzi, Associate Curator, and Peter Williamson, Preservation Officer, Department of Film, MoMA.
Selections from the film, along with research findings, archival materials, and film stills will go on view October 24, 2014, in the Roy and Niuta Titus Theater Lobby Galleries in the exhibition 100 Years in Post-Production: Resurrecting a Lost Landmark of Black Film History (through March 2015). The world premiere presentation of the assembled rushes will be on November 8, 2014, in MoMA's annual film preservation festival To Save and Project (October 24–November 22, 2014), organized by Joshua Siegel, Curator, and Dave Kehr, Adjunct Curator, with Sophie Cavoulacos, Curatorial Assistant, Department of Film, MoMA.
Starring the legendary Caribbean American musical theater performer and recording artist Bert Williams (1874–1922), the seven reels of untitled and unassembled rushes were filmed at virtually the same time that D. W. Griffith began The Birth of a Nation. In addition to narrative scenes, the reels reveal candid footage of the black cast and white crew interacting on set, and several frames of Williams mingling with white extras on a suburban street location during a break in filming. The rushes also provide nearly eight minutes of documentary footage of the interracial cast and crew on the New York studio sets and suburban New Jersey locations (in what is believed to be Englewood).
"Although Bert Williams's little-known film career took place in the blink of an eye, I consider him a performer worthy of comparison to Charles Chaplin," said Mr. Magliozzi. "The footage had been cataloged noting Williams's appearance, but it wasn't until we passed over it frame by frame on a stop-motion editing table that its significance truly blossomed." Of historical relevance is the display of adult romantic feelings between black performers, which was largely considered unacceptable to white audiences into the first two decades of the 20th century. In the film, a repeated, lengthy kiss between Williams and his costar appears to be the earliest surviving portrayal of a serious romantic relationship between black characters on film. The film also features a lengthy early example of African American vernacular dance, with a nearly two-minute, full-cast performance of a cakewalk, the dance that Williams and partners George Walker and Aida Overton Walker had made an international sensation with theater audiences and the white upper class around 1900.
Although no main title, intertitles, script, or production credits have survived with the film, MoMA's curators tried to reconstruct the film's narrative, ultimately piecing together what appears to be a middle-class comedy centered on the membership of Williams's character in a black social club, with an additional plotline concerning Williams and rival suitors vying for the hand of the local beauty after a day of fairground activities, a bit of larceny, and a night of exhibition dancing.
Over the last decade, Magliozzi also conducted traditional archival analysis and research in period trade papers such as Moving Picture World, and Harlem's black daily New York Age, and readings of recent African American theater studies. The identification of the cast began with comparing frames of the film with images on sheet music and old press photos, often from the society and entertainment pages of New York Age. The curators were able to determine that the cast of between 50 and 100 performers was from a little-known professional community of virtuoso Harlem entertainers. The film's blending of minstrel stereotypes and contemporary performance styles is evidence of a theatrical community's effort in a time of segregation to access a new medium as a means of achieving increased visibility. The remarkable number of performance-based benefits, concerts, carnivals, festivals, picnics, and expositions covered by the Age between 1908 and 1919 confirm that a talent-rich network of entertainers and elites had coalesced around organizations like The Frogs and the Colored Vaudeville Benevolent Association. The zeal of the cast can also be looked upon as evidence of the community's eagerness to take on the new medium.
Establishing that the film was shot in the September 1913 was the result of compiling information from three lines of research: the last films shot with Biograph's unique "one-hole camera," as this one was, were made between October and November 1913; a study of Williams's 1913–14 recording and performance schedules indicated that he was free and in New York for roughly two months beginning in late August 1913; and an August 1914 issue of the New York Age revealed an obituary for Sam Corker Jr., a member of the film's production crew, providing the only direct written reference from the period with the lines "Last fall he employed a large number of colored performers for the 'Lime Kiln Club' series of motion pictures produced by Klaw and Erlanger in which Bert A. Williams was featured." The setting of the Lime Kiln Club, which figures prominently in the film, was taken from a popular syndicated comic of the period. Most recently, Magliozzi enlisted the services of a professional lip-reader in an attempt to decipher the film's dialogue, which was discovered to be largely improvised.