October 12, 2015–January 24, 2016.
The reunification of ancient Egypt achieved by Nebhepetre Mentuhotep II—the first pharaoh of the Middle Kingdom—was followed by a great cultural flowering that lasted nearly 400 years. During the Middle Kingdom (mid-Dynasty 11–Dynasty 13, around 2030–1650 B.C.), artistic, cultural, religious, and political traditions first conceived and instituted during the Old Kingdom were revived and reimagined.
This transformational era will be represented through 230 powerful and compelling masterworks (individual objects and groups of objects) in the major international exhibition Ancient Egypt Transformed: The Middle Kingdom, opening October 12 at New York's Metropolitan Museum of Art.
Fashioned with great subtlety and sensitivity, and ranging in size from monumental stone sculptures to delicate examples of jewelry, the works of art are drawn from the preeminent collection of the Metropolitan—which is particularly rich in Middle Kingdom material—and 37 museums and collections in North America and Europe. This is the first comprehensive presentation of Middle Kingdom art and culture and features many objects that have never been shown in the United States.
The exhibition is made possible by Dorothy and Lewis B. Cullman. Additional support is provided by The Andrew W. Mellon Foundation, Diane Carol Brandt, and The Daniel P. Davison Fund. It is supported by an indemnity from the Federal Council on the Arts and the Humanities.
"The astonishing continuity of ancient Egyptian culture, with certain basic principles lasting for thousands of years, gives the impression of changelessness," said Adela Oppenheim, Curator of Egyptian Art. "But the works of art in the exhibition will show that ancient Egypt constantly evolved and was remarkably flexible within a consistent framework. New ideas did not simply replace earlier notions; they were added to what had come before, creating a fascinating society of ever-increasing complexity."
Arranged thematically and chronologically, the exhibition opens with a forceful, monumental statue of King Mentuhotep II, carved in an intentionally archaic style that suggests a link to the legendary kings of early Egypt (ca. 3300 B.C.).
Profound changes in the concept of kingship are demonstrated through a series of royal statues that span several hundred years. Early Middle Kingdom pharaohs are often depicted with youthful faces and confident expressions. In contrast, the evocative, fleshy faces and deep-set, hooded eyes of later kings present startling images of maturity and humanity.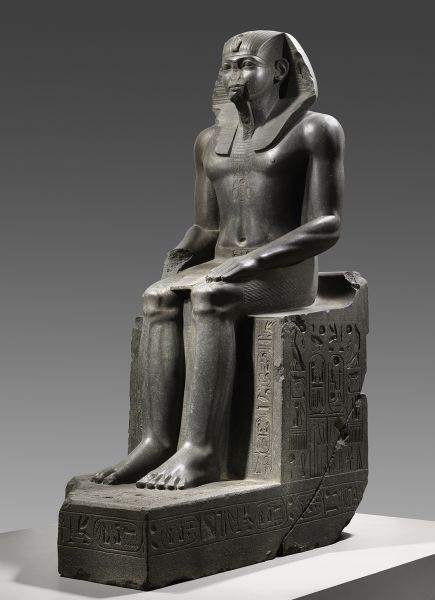 Learn more here