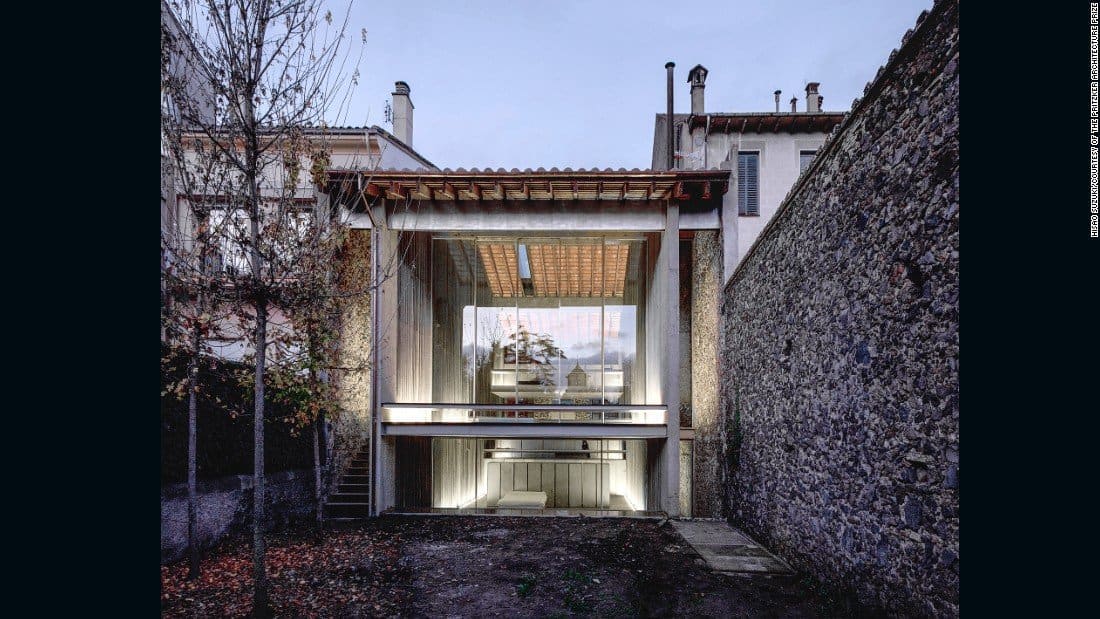 ---
This article titled "Pritzker prize for architecture won by little known Catalan trio" was written by Oliver Wainwright, for The Guardian on Wednesday 1st March 2017 15.01 UTC
Three Catalan architects who have built little outside their home region of north-east Spain have been named as the 2017 winners of the Pritzker prize, the world's most prestigious architecture award. For a glamorous gong that is usually bestowed on star architects for galleries and opera houses, it is a radical departure to see it awarded to an unknown trio who have spent the last three decades quietly improving their own area, designing beautifully made buildings from a converted foundry near the Pyrenees.
Rafael Aranda, Carme Pigem and Ramon Vilalta, who founded their practice, RCR Arquitectes, in the small town of Olot in 1988, have built a reputation for projects that have an acute sensitivity to local context, taking great care with how they are sited in the landscape and masterfully using materials to play with light, shade, mass and fragility.
"They've demonstrated that unity of a material can lend such incredible strength and simplicity to a building," says Australian architect Glenn Murcutt, chair of the Pritzker jury, himself known for buildings that touch the ground lightly. "The collaboration of these three architects produces uncompromising architecture of a poetic level, representing timeless work that reflects great respect for the past, while projecting clarity that is of the present and the future."
Their Bell-Lloc winery, built in 2007 in Palamós on the coast of Girona, lies hunkered down in the landscape, taking visitors on an atmospheric journey into an underworld of winemaking, buried beneath a folded roof of rusty recycled steel. Angled walls give the feeling of entering some ancient burial chamber, washed with occasional shafts of light from slots in the roof.
Another slatted steel canopy covers their startling public space in the town of Ripoll, built in 2011 in a void between existing buildings where a theatre once stood. Accessed by a new pedestrian bridge across a river, also in weathered steel, it is conceived as a big open-air box slotted into the street, a space where all kinds of activities can unfold. Its walls are slowly being taken over by plants, giving it the quality of a timeless ruin.
Their Tussols-Basil athletics track, carved out in a forest clearing outside Olot in 2000, is so carefully nestled into the landscape that it is barely there. Runners appear and disappear between the trees as they make their way around the track, while spectators sit on terraces and embankments created by natural undulations in the topography. In all their work there is a sense of the eternal, of the structures being rooted to their place.
"We have always tried to flee from fashions, or make architecture located in a precise moment," said Ramon Vilalta in an interview in el Pais last year. "We believe that architecture is construction and that construction must be well done. Then it will last."
The trio work in an early 20th-century foundry building in Olot, which they have converted with their usual light touch, transforming the "as found" brick shell with precise steel insertions, the metal's surface variously brute and rusty or varnished and shiny. They work together at a big table of their own design, gliding around the office in slippers, enjoying a slightly cultish air: their projects are so precise and well made that it is (apocryphally) rumoured they ask their clients to sign a contract pledging never to alter their buildings. "It is true that we take things to extremes," says Vilalta, explaining that they often design the furniture, too, because they struggle to find satisfactory off-the-peg designs.
"They are among the very best in the world today," says eminent architectural historian William JR Curtis, author of a recent monograph on their work. "They avoid the excesses and facile image-making of the international star system and its so-called icons." He says their projects draw on diverse sources, from Mies van der Rohe to the steel blade sculptures of Richard Serra; the inheritance of Catalan modernism to the Zen gardens of Kyoto, exploring "a middle ground between architecture, landscape and abstract sculpture and in the process heightening the perception of the natural world."
He sees their 2011 marquee for Les Cols restaurant in Olot as a pivotal work. Once again it is carved out of the ground in a series of sunken terraces, with walls of volcanic stone, above which hangs a diaphanous roof of transparent acrylic and bamboo-like steel rods, arced in catenary curves expressing the weight and tension in the structure. The gossamer canopy floats over the landscape like sheets left out to dry in the breeze, with thin vertical blinds of acrylic creating shadow puppetry of the people within. Outside and inside become one. As Vilalta puts it: "It is not a question of establishing limits with walls, but by other means."
Their El Petit Comte kindergarten, built in Besalú in 2010, also ditches conventional walls for a kaleidoscope of colourful tubes, arranged in a linear rainbow around the perimeter of the building like kids' colouring pencils. Some of them are solid and structural, others are transparent and left free to rotate, inviting children to play with the fabric of the building. There are no corridors, dark corners or residual spaces; every room overlooks the outside, protected by this colourful palisade.
Recent years have seen the architects venture outside Girona, completing two projects in France in 2014 – the Soulages Museum in Rodez, composed of stark Cor-ten steel blocks cantilevered over a sloping landscape, and La Cuisine art centre in Nègrepelisse, an elegant renovation and extension of a 13th-century fort.
The choice to highlight this locally rooted trio, who have avoided the international limelight, represents a promising direction for the Pritzker jury, who this year canvassed more opinions and cast the net far wider than previous years (for the first time I was asked for my own suggestions). The accolade may well lead to more international commissions for RCR, although it is unlikely to change the way that Aranda, Pigem and Vilalta work, remaining doggedly attuned to context.
"Wherever we go, we have to be like sponges," says Aranda. "Capture everything: place, space, people. If that is not known, we can't do anything."
guardian.co.uk © Guardian News & Media Limited 2010
Published via the Guardian News Feed plugin for WordPress.